I am getting so excited - I cannot believe I got another chance to do this. I've been kind of afraid to jinx this trip since one time I announced I was going on a cruise, I got the cancer and couldn't go.
November 7, 2009...

I can't believe that a week from now we'll be on the plane, headed for Miami and then getting on a cruise ship the next day.
I think I have everything I need except for a new camera case.
For my birthday in September, my best friend gave me a gift certificate for amazon.com. I had been looking at waterproof cameras for a while since I was disappointed that I had to put my camera away when the fun started on this little boat ride.
I put a few waterproof cameras in my cart and kept thinking about them, then hearing my mom's voice saying - you don't need another camera.
We were watching a travel show where the presenter was under a waterfall and you could see that the camera was getting wet and I thought how cool, a once in a lifetime experience.
So...I took my friend's birthday gift and bought a waterproof camera, specifically for the zipline/cave day. But it doesn't fit into my case so I need a new one :)
I hope I don't get too scared on the zipline but right now I'm so excited!
Day Zero: We Set Out; Miami, Florida. November 14, 2009
We had left our dog at her sister's so on Saturday morning there was nothing to do but pack and get to the airport. Piece of cake! No photo finishes this time, no racing to another airport because I couldn't remember which was ours.
I had forgotten my neck pillow so I bought one at the airport. They had a "deal" - either a blanket or pillow for $15 each or both for $20. So, I have a new blanket, too. More to travel around with! They also had little cellphone carrier/purses on sale so I got one of those. I had thought it would be handy around ship to carry my room key and little stuff. Turns out it also holds my camera so all that looking for a camera case was in vain!
Anyway… the trip to Miami was uneventful. I called Michael from the tarmac and he was already at baggage claim. By the time we deplaned (we were in the last row, of course!) he had his luggage.
Everything gathered, we took the Sofitel shuttle to the hotel. After check-in, Tom went online and Michael and I napped. Travel is so tiring!
The view out our window of the pool and lagoon was so pretty that I took a few pictures.
In the evening, Michael went out with friends for dinner (they had Italian) and Tom and I went to the hotel's restaurant – French – and had a nice dinner, although it cost more than the hotel had for the night.
Back in the room, I got Michael hooked on a new game I had discovered, Nick Chase, Private Detective.
Then sleep. Our shuttle to the port was at 11:00. We were the last people on, no surprise! We were the last off, also no surprise. But we made it and that was the main thing. Our luggage also made it, too – also a main thing!
Day One: Norwegian Jewel, Miami, Florida. November 15, 2009, 4:00 PM
Off the shuttle bus and into the cruise terminal.
A first look at our ship, the Norwegian Jewel
The embarkation process was the easiest I've ever seen except for the part where we got to the desk and the man asked Michael if he'd used his credit card for this cruise. Uhhhh, no. Turns out an older gentleman with the same name on this cruise had checked in already and we would have been able to charge stuff to his card. Luckily for him, a lot of staff people chatted about this for a while and figured out how to fix this.
After that, we went right onboard. No long waits, nothing. Cool!
They did take our picture just before we got on – surprise! – but that was it.
Up to 12 to the Garden Cafe for lunch. Then we found a quiet place to sit and wait for our cabin to be ready. Unbelievable that there were only 4 chairs in this little area so it was very restful.
We looked around the ship a little…

We checked out the Spinnaker Lounge on 13.

Some very interesting chairs
Cabin time! The announcement came and everyone set out for the bit confusion of cabin finding. Aft? Forward? Midsection? Which deck? Aarrggh!
Got it and started settling in – and taking pictures.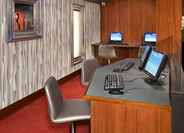 Tom found the Internet cafe and Michael and I napped (going to be a common theme!) The bed is very comfortable – yea!
Some luggage also started appearing – also a yea!
At 3:30, we went to the Tsar's Palace for muster and life jacket training. Looks like a great restaurant – hopefully, we'll get here some night.

At 4, we went up by the Sapphire Pool on 12 for the Sail Away party. I took a *few* pictures, of course! They had a band playing, people dancing, kids sliding down the slides...
I had a nice rum punch which Michael tried and ended up having one, too.
Michael and I went out and checked out the fitness center while Tom went to a meeting. Surprise, surprise! There was someone there he knew.
I took some pictures of the setting sun:
We had trouble deciding where we wanted to eat – they all sound wonderful but some have cover charges and they all have different dress codes. The common theme for most is no shorts at night.

Michael decided Tango Tapas on 8 looked good so we went there. (Cover charge $10 per person, supposedly no shorts but we saw some).
We had a nice table by the window but it was pitch black out so we couldn't see a thing except for the wake of our ship below us.
They brought out strawberry margaritas for all but I'm allergic to strawberries so I didn't have any. The waitress finally noticed that and commented – she brought me a lime one instead. Yummy!
Michael got an appetizer, Tom had both soup and a huge salad. For the meal, Tom and I had chicken fajitas and Michael had shrimp and swordfish skewers. All was yummy!
Dessert time – I had a mango/pineapple/ice cream confection that was wonderful, Tom had plain ice cream and Michael had a pineapple tart-thing.
And coffee, of course :)
We wandered around the ship a bit. Saw the picture they had taken of us on the gangway. Tom bought a map of this trip to put on a wall…somewhere.
We found where the show was just starting in the Stardust Theater on 7 and went in. There was a comic I wasn't too wild about. Michael decided to go run on the track instead.
We got back to the cabin, then Michael got back from his run. He only did 2 miles.
Finally, sleep time!
Today's Stats:
Forecast: Mostly Sunny, 81F/27C
Sunrise: 6:40am
Sunset: 5:30pm
Day Two, November 16, 2009: At Sea
I woke up at 8 – early for me and Michael was already out having (first) breakfast at the Blue Lagoon, one of the 24-hour restaurants. I just sat on the balcony for a while, writing this, taking pictures.

The first are of the open sea and a freighter out in the distance.

Tom who finally got up and Michael who was napping again. It's a tough life!
Eventually, everyone was up and we set out for breakfast.
Since this was an At Sea day, we had time to roam around the ship taking pictures, seeing what was where.

The first place we looked for was the Java Cafe on deck 7. I had thought it would be a good place to get, um, coffee but it was mostly coffee drinks, with alcohol. They had some interesting pastries and it was a good place to sit while waiting for other things to happen. It was part of the Chrystal Atrium, named for the ceiling, I guess.

These pictures don't do the ceiling justice – looks like stalactites of many colors hanging down.
The glass near the top is the wall to Tango's, the restaurant where we had dinner last night.
We discovered The Great Outdoors deck 12 aft (at the back) - a place we would end up having lots of meals and snacks.
The Garden Cafe had 2 ice cream dispensers and when we cut through there (or made an excuse to go there!) we always got a cone.
Off to the Galleria for a bit of shopping. As usual, Tom got T-shirts and stuff.

I got a coffee mug to leave on a shelf with instructions for whoever got up first and went out – bring me back coffee! It held 2.5 times as much coffee as the ship's standard cups.
A bit more exploring and trying out the golf area:
Some more "setting sun" pictures:
After a nap, since this was "Dress Up or Not" night, we got dressed up a little and went to Azura, the restaurant with the most stringent dress code.
The show for the night was "Band on the Run" starring the Jean Ann Ryan Company. They are going to do two more shows, as well. This one was a tribute/flashback to the 1970's. The very talented company featured a dancer who was truly double jointed and very gymnastic as well as a pair of ballroom dancers, acrobats, singers and dancers. Music was provided by the Jewel Showband.

Back in our cabin, we find out first towel animal. Then, off to bed. We have an early start in Roatán, Honduras, Bay Islands, Central America.
Ship Statistics 93,502 tons
2,376 passengers
Length: 965 feet
Beam: 106 feet
15 decks
Crew of 1100
International crew
Panamanian registry
Today's Stats:
Forecast: Sunny, 84F/29C
Sunrise: 5:48am
Sunset: 5:00pm
Day Three, November 17, 2009: Roatán Honduras, Bay Islands, Central America
Up early today – our tour of Roatán begins on the pier at 8:20.
The Islas de la Bahía ("Bay Islands") consists of eight islands and more than 60 bays. Roatán is the largest of these at 35 miles long. It is less than 4 miles wide at its widest point and has a population of about 30,000. It is only 40 miles off the north coast of Honduras.
We set our clocks one hour back for this area of the Caribbean.
After a few pictures from the balcony and breakfast, we made our way to the gangway and off to find our group for the "Best of Roatán" Tour. Although the forecast was "partly cloudy", it was actually raining a bit.
We were met on the dock by local musicians and dancers wearing traditional costumes of the Garifuna (more on them later)

On the bus.
We got to experience some of the unique landscape and the local culture as our guide, Ivy, briefed us on the history of Roatán and the Bay Islands.

Our first stop was Dixon Cove Harbor where we boarded a dory to tour the keys, reefs and shipwrecks.

Tom checking his email…

These ships were bringing lumber to the island. The locals got the lumber anyway, but the ship owners lost out!
Back on the bus!
Next stop was the Garifuna Experience at the YUBU!, where members of the Garifuna, (descendents of Black Carib Indians who settled in Roatán in 1797), demonstrated their music and dance, which have been preserved over hundreds of years. During a war with the English, the men had dressed as women and vice versa. To this day, the men still wear dress-like costumes and masks.
There was an exhibit of making ereba (cassava bread). This is done in an ancient and time-consuming process involving a long, snake-like woven basket (ruguma) which strains the cassava of its juice. It is then dried overnight and later sieved through flat rounded baskets (hibise) to form flour that is baked into pancakes on a large iron griddle. Ereba is usually eaten with fish, hudutu (pounded plantains) or alone with gravy (lasusu). We tried some and Michael bought a couple packages to snack on for the rest of the bus trip.
Also, they had jewelry made out of magnetite just like in Barbados so Tom got the 3 of us bracelets and I got a necklace.

Back on the bus again for Statue Park. The statue is of Honduran hero General José Santos Guardiola Bustillo. They also had demonstrations daily life – a hut made of almond branches, mud and thatched roof, a fish and coconut dish (samples but also for sale), more magnetite.
Off to a photo op:
Back on ship in time for a late lunch, then a nap.
Bidding fond farewell to Roatán:
We checked the restaurant screen and found that Mama's Italian Restaurant had availability so we went there for dinner.
We decided to skip the show – a ventriloquist – and get an early start. Tomorrow is zipline day!
A video of the sunset:
Today's Stats:
Forecast: Partly cloudy, 84F/29C
Sunrise: 5:53am
Sunset: 5:11pm
Arrival: 8:00am
All aboard: 4:30pm
Day Four, November 18, 2009: Belize City, Honduras
Today's Schedule!

From http://www.belizecruiseexcursions.com/BelizeCaveTubingZipLineExcursion.htm
Belize Enjoy two of the most exciting tours offered in Belize today, cave tubing and the canopy zip line excursions on your one day visit to Belize!
Your Zip Line adventure begins from the First Platform where you will "jump" from the first Platform to zip to the next Platform found 150ft away. Flying through the air surrounded by nature is the most exhilarating feeling ever encountered, the
birds and Howler Monkeys found onsite will be at eye level making you one with the prolific nature Belize is famous for.
The Zip Line Adventure consists of 8 Zip Line Platforms each strategically located within the Rainforest canopy. Double cables (each capable of withstanding 2,000 pounds of weight, the requirement for this tour truly has nothing to do with weight but with the size of the safety equipment) are used for the ultimate safety. All landing Platforms are equipped with safety gear, handrails and Guides to meet your next landing as well as to ensure your personal safety throughout the tour. The Platforms are as high as 85ft into the Canopy and as far apart as 250ft!
On the second part of your exciting excursion you will then reach the Cave Branch System Welcome Area where you will be fitted with your life vest, (if you would like one) cave lamp and your tube.
The walk to the beginning of the first Cave Entrance is an easy gentle 30 to 40 minute stroll through the beautiful Belizean Rainforest. Your guide will take you through two dry caves where many stalagmites and stalactites can be admired along the way. Once we have reached our access point for your Cave Tubing adventure, you will be able to enter the crystal clear, refreshing river and enter the first cave. A picture of the first cave can be seen on our website but unfortunately the picture does not do the area justice as the cave entrance and color of the water is simply spectacular!
You will visit 1 full underground cave system (2 caves) within the Cave Branch System, you will also be guided to underground dry caves within the cave system, a treat only offered by our outfit, X-Stream Cave Tubing! As you approach the end of your cave tubing experience you will float through small fun rapids where you will pickup some speed and end the cave tubing ride in style, bringing you right back to the starting point of your Cave Tubing adventure. Tropical Fruits are offered following your excursion.
If a picture is worth a thousand words the following pictures should give you a great description of both tours.
---
Trekking in the Belizean Rain Forest, an easy 30 minute walk with your tube cave tubing entrance
Walking through a cave on the way to the river for the cave tubing
---
In the Rain Forest, an easy 30 minute walk with your tube to the river tubing entrance
Off we go on our Xtreme Cave Tubing Adventure
---
Regular Cave-Tubing entry and our guides assist you if you need help
Floating through the Belizean underworld
---
Exploring the cave system and various formations by the glow of the cave lights (head lights?)
The famous cave wave
---
The short walk through the rainforest to reach the first platform.
The Guides instruct the Zip method and explain the cables, platforms and itinerary. You can see the double cables.
---
Getting ready for the first jump to the first platform 85ft in the air!
Zip lining away!!!!
---
One of the many platforms found high in the canopy
Wayyy up!
---
At the end of the Zip Line Excursion you will repel from the last platform back down to Earth.
Easy does it. This is the experience of a lifetime!
Up and at 'em early this morning.
This is finally the zipline day I've been thinking about since my kidney cancer surgery 3 years ago. Since then, I figure I have "extra years" and I wanted to do something kinda scary, yet fun. So, somehow, I decided on ziplining. Tom wouldn't go with me but Michael would so I set this up almost as soon as we booked this cruise.

Tom went on a tour of the Mayan Ruins of Altun Ha. I hope to get his pictures to add sometime soon.
The description reads
"Travel to the ancient site of Altun Ha, famous for its nine-and-a-half pound jade head of the sun god Kinich Ahau. Three plazas and 13 structures mark the epicenter of this important ceremonial site. Prepared stone steps allow you to climb to the top of three of the main temples."
Our tour left first so after breakfast, Michael and I got on the tender for Belize. Tom's tender was about 45 minutes later. Even though the tender went zipping along, it was about 20 minutes to shore.
We got on our bus with about 30 other brave and not-so-brave folks and our guide, Eddie, told us a bit about Belize City, Belize in general and what to expect on our tour.
Belize City used to be the capital of British Honduras (as Belize was formerly named) but it's 2 feet below sea level and prone to hurricanes so the capital was moved to the other city – Belmopan in 1970. It was almost entirely destroyed in 1961 when Hurricane Hattie swept ashore on October 31.
Because of the altitude, graves are all above ground.
The main languages are English (the official language), Spanish and Kriol. Eddie said the kids learned English in school but, as soon as they were out, it was back to the Kriol. They wear uniforms to school.
Bordering on Mexico, Guatemala and the Caribbean, Belize is the second smallest country in Central America (after El Salvador), with an area of approximately 9,000 square miles that includes numerous small islands off the coast known as cayes.
More than half of the mainland is covered with dense forests, and at its longest point Belize is 174 miles long while its greatest width is 68 miles. Long a strong advocate of environmental protection, the government has set aside approximately 20% of its land as nature reserves.
There are also several important Mayan sites situated on the mainland such as Altun Ha and Xunantunich that make for excellent day trips and are included on shore excursions by most cruise ships. As a matter of fact, Belize has the highest concentration of Mayan sites of all the countries in Central America.
Eddie tried to tell us that our tour would be scary – but FUN, it would be hard – but FUN. He himself had done the zipline only once, because he had to for this job. He said that the caves might have things brushing up against us but they would be leaves and twigs. The caves might have "log-gators" in them, too.
We travelled along the 37-mile drive along the Western Highway – the scenery changed from city to suburbs, to a settlement called Hattieville where hurricane survivors met to life after the country was destroyed, to the beginnings of the rain forest.
We turned down a road to a jaguar preserve – yes, they have them here! then, finally, to our destination, Caves Branch National Park.
Eddie handed out water (which we had to leave on the bus). A bathroom break, then off to the zipline area.
Each person had a harness around their legs with attached pulleys and carabiners. Women had them on their chests as well. In addition, we had leather construction gloves and hard hats.
We climbed to the top of the first platform and were given brief instructions and off we went. Because of the heavy gloves, I couldn't get any pictures. I had thought that they would take some of us on the hardest line to sell to us later but they didn't. They also didn't have cave pictures or T-Shirts. What a missed opportunity!
This was so cool, so much fun. I thought I might be afraid at first but I wasn't. I just followed instructions and went.
Sometimes they told us to break. We did that with the right hand, which was always on the upper cable.
After the second line, I must have braked too soon because I stopped before I got to the platform. Michael was headed toward me. The guide on the end of the platform wanted me to do some hand over hand maneuver but I couldn't figure out what he was saying so he came and got me by wrapping his legs around me and pulling me to the platform.
After that, no more problems with breaking!
The next platform was very high – over 70 feet in the air – and the climb up was difficult. It was very hot and the rocks were very uneven. I don't know that I would have gotten to the next platform if Michael hadn't cheered me on all the way.
We zipped down the next six lines up to 250-feet between platforms and 85-feet high in the trees, at canopy level. It seemed like it was all over too soon.
But, I did it! No fear, just fun.
Here we are, after getting our gear off. The people behind Michael are just starting out on their zipline adventure. I thought maybe we could go again…?
Next stop was lunch in the trees. It was a buffet similar to those in Barbados – a jerk chicken (Eddie had said it would taste like chicken – might be egret, road kill, log-gator or even…chicken!), peas and rice, a pasta salad, cake, fruit salad, the usual fare.
Next up, cave tubing! This is the event I got my new waterproof camera for. Thanks again, Alice!

First, we stopped to get equipment. This time, life vests, helmets with little head lamps and 8-pound rafts.
We hiked for 45-minutes mostly downhill. About 15 minutes into this, we forded the stream we would later float down. I gave Michael my raft to carry.
Our guide will pointed out various plants, roots and herbs once used by the ancient Maya for medicinal purposes.
Finally, we reached the entrance tunnel that went into the underground cave system.
We all got into our rafts and hooked our feet under the armpits of the person ahead of us to form an 8-person "train". It was very dark at first and I think I might have fallen asleep until I heard someone commenting on the beautiful stalactites. I turned my head just in time to see them lit up with green back lighting but not in time to take a picture. Michael was behind me so he got some of me and I got some of the ceiling and the exit from the cave.
After the cave, we just floated merrily down the stream until we got back where we started.
Back to the bus for a little naptime! On the way back, I saw a sign like a deer crossing one but the picture was a crocodile instead of Bambi. Uh oh!
It was almost time for all aboard so we got on the tender and back onboard. Five major cruise lines had ships docked offshore - Norwegian, Celebrity, Princess, Royal Caribbean and Carnival! Tom had been back for about 4 hours and was in the Internet Cafe. We went up to the Spinnaker Lounge and took a picture of the sunset.
We were all too exhausted from the day to dress up for dinner so we got dinner at The Great Outdoors.
The show was Country Gold with the Jean Ann Ryan Company and the Jewel Showband. I'm not a major fan of country but the show was lots of fun.
Tonight, we had a little mouse towel peaking our from under the sheets.
Today's Stats:
Forecast: Partly cloudy, 83F/28C
Sunrise: 6:00am
Sunset: 5:15pm
Arrival: 8:00am
All aboard: 4:30pm
Day Five, November 19, 2009: Costa Maya, Mexico
We hadn't signed up for anything in advance like we had the zipline and when we tried to sign up the night before docking in Costa Maya, everything was booked except Beach Blast. No thanks. So we just decided to go ashore and look around. Some of us were still tired from the day before. No names, though!
At 9:30am, I took this picture on our balcony. 106.9 degrees.
At 9:31am, 107.1. I decided it was time to go back inside before it rose any higher.
We mainly goofed off in the morning, resting by the pool, taking pictures, reading our Kindles, and so on.
The long pier into Costa Maya:
Finally, we decided to check out Costa Maya and started the long walk down the pier.
The port of Costa Maya Mexico is located on the southern east tip of Quintana Roo Mexico near the tiny fishing village of Mahahual.
Costa Maya's port has a new and modern tourist shopping mall. The center has a central plaza with a neat-looking pool there with real sand and 'swim-up' style bars.
There are several jewelry stores and many small shops selling ubiquitous souvenir items. It is generally open only to cruise ship passengers. One of those shops was called…Zingara.
Tom bought a hat and a T-shirt (or 2) and I finally bought something – a swim coverup with embroidery on it.
Costa Maya is the closest port of access to many of the lesser known Mayan ruins in the Yucatan including Chacchoben and Kohunlich. These sites are substantially less excavated than the better known pyramids near Cancún.
The port sustained heavy damage due to Hurricane Dean in August 2007. This included the dock designed for cruise ships. Holland America's Westerdam was the first cruise ship to return to the port since Hurricane Dean on October 31, 2008.
Bidding fond adieu to Mexico…
Luckily, they had jitneys for people who couldn't/didn't want to make the long walk up that pier.
While walking, we were passed by an ambulance which stopped at our ship. We wondered what possible event would be dealt with by someone taken off a cruise ship into Mexico for care. We'll never know.
The standard onboard sunset pictures for today:
We decided to eat tonight at the Tsar's Palace. Although it has Russian name and decor, the food was not Russian. Drat!
Tonight's entertainment was Jane L. Powell, a singer with a five-octave range. She sang all types of music and was very humorous and entertaining. Another great show!
Today's Stats:
Forecast: Mostly Sunny, 84F/29C
Sunrise: 6:01am
Sunset: 5:11pm
Arrival: 8:00am
All aboard: 4:30pm
Day Six, November 20, 2009: At Sea
Lazy day at sea, involving meals, snacks, ice cream… we worked a lot of it off, though.
Except for the very first time onboard, when there was no choice, we walked up and down stairs many times a day. We were on deck 9. Restaurants and shows were on either 12 (or 13) or 7. I'm surprised my knees survived!

There was the usual napping, reading
Sometime during the day we put a deposit down on another cruise to be used within 4 years.
We also got copies of pictures that were taken that first night, when we ate in Tango's. Tom as surprised – he hadn't realized that we had had our picture taken.
We thought of doing several things, but ended up going in the pool, reading, napping and – eating, of course!
Despite today's forecast of "Sunny", there was a bit of rain out to sea and some thunder and lightning.
On balcony
In The Great Outdoors
Resting in the comfy chairs in Spinnaker
This evening we ate at Mongolian Hot Pots. I was very excited about this because I happen to have a Mongolian Hot Pot at home although I haven't used it for years.
It looks like this (although I never had flames like this):
The idea is that there is coal or another heating element in the middle chimney so the food in the outer bowl area cooks more quickly.
The Mongolian hot pot tradition originated from northern nomadic tribes. Nomadic households used pots like this to save volume and weight during migration.
So, I was looking forward to trying this out cooked by someone other than myself!
We had some trouble finding this restaurant – turned out they had set aside 4 tables in Chin Chin Asian Restaurant.
The 4 tables all had an electric heating element on the table. No coal here!
We all had seaweed salad, dumplings and steamed edamame (baby soybeans) as appetizers.
Then the waiter brought out the gingery broth for the Shabu-Shabu, white rice and 3 dipping sauces for each of us. The broth included silky tofu and vegetables, including hakusai, chrysanthemum leaves, nori (edible seaweed), onions, carrots, shiitake mushrooms and enokitake mushrooms.
Then came the plates of thinly sliced beef which we put onto long forks and cooked quickly in the broth.
Then, a second plate of beef. Had we finished all this, we could have had the broth over the rice for a final soup course but we never got that far.
Wonderful!
For dessert, rice ice cream in matcha (powdered green tea), coconut and azuki (Red Bean) flavors.
Waiting for the show to start.
The show this evening was another Jean Ann Ryan Company production called Le Cirque Bijou. What a great show! Acrobats, aerialists, gymnasts, bungee jumpers hurling themselves from the 2-deck high ceiling. People swung on trapezes, used scarves to swing from. Amazing, the whole show.
At the end, they said that we could photograph or video the finale, so I did. This was the last contract for this company, so it was their very last show (on this ship, anyway)
Today's Stats:
Forecast: Sunny, 82F/28C
Sunrise: 6:58am (We changed the clocks back today)
Sunset: 5:38pm
Day Seven, November 21, 2009: Great Stirrup Cay
Another lazy day! Today, we're going to take the tender over to NCL's private island, Great Stirrup Cay. GSC is part of Bahamas' Berry Island chain and lies about 50 miles from Nassau.
It's right next to a private island of another cruise line – you can see another ship at anchor right next door! Also, there are parasailers circling our ship in some of these shots.
We decided to go over later in the day since we weren't going to do any activities except, you know, have BBQ lunch.
We had to get tender tickets in the Photo Gallery, so we did that and waited for our ship to come in.
One woman must have thought that the crossing was a little rocky since she held on to a railing for the entire five minute ride.
GSC has a lot of beachy activities in addition to just swimming/sunning. They have the ubiquitous "helmet" of beer where you buy 5, get one free, served with ice in a football helmet. And various versions of rum punch.
There's snorkeling (and instruction), parasailing, ping-pong, beach volleyball, kayaks, rafts, floating mats, hammocks, hiking, massages, yoga and probably more stuff. Kids have other games, too.
We found a nice picnic table and had lunch. It was about time, after all! After that, we walked around a little, stuck our feet in the water, walked some more, then back to the tender for "home".
Looks like Tom went nuts with the camera! On the tender:
Then, a bit of reading/nap/general goofing off before the all aboard and we left GSC
Looking straight down from our balcony, What blue water!
Napping, reading, ice cream…
On 12, by the Sapphire Pool, for one last sunset before we head home.
There were several things we wanted to do but somehow never got to them.
We did get packed up for home, had dinner in Chinn Chinn again – Chinese this time, just enjoyed our time together.
It was a great trip and I'm glad we put a deposit down on another one.
Today's Stats:
Forecast: Sunny, 80F/27C
Sunrise: 6:59am
Sunset: 5:20pm
Arrival: 10:00am
All aboard: 5:30pm
Day Eight, November 22, 2009: Miami, Florida...and Home
There had been several other options like enrolling in the BAGS program and never seeing our luggage until we got back to Reagan, but we missed that – Tom wanted to get an earlier flight home. We also could have taken a tour of Miami if we hadn't changed our flight.
Michael's flight was about 12:30, so we decided to go when he did. One last breakfast in the Garden Cafe, then waited in our cabin until the called our luggage tag color.
One last swipe of the key card, off the gangplank, picked up luggage, through customs and onto a bus for the Miami airport.
We got 2 of the last 4 remaining seats on an earlier flight (12:15). Inside security, Michael went to concourse D, we went to E.
Our flight went pretty smoothly – I mostly slept and we got to Reagan just about 3:00, before we were originally supposed to leave Miami.
A taxi home, got the car and went to get Mimi at her sister's. Back home and Tom was off to a meeting at 5:30 with a lawyer for a case on Monday. Mimi and I napped.
From shipboard in Miami to Tom working in D.C. – 8.5 hours. Amazing.
Post Cruise:
Thanks for reading!

Site Design and Maintenance
by
Mary O'Connor